A few weeks ago I shared some of our summer reading and mentioned the Barnes & Noble summer reading program. While we were there picking up T's new book, we stopped at the "Bargain books" section just to browse. T spotted this large box and got very excited. Looking at the front of the box I quickly understood why he was so excited. There it was, a 15 inch tall Tabletop Siege Tower. What little boy wouldn't love this? I'm sure many little girls would love it as well. Not only does this kit come with the materials to build this wooden siege tower, but it also comes with a nice book Castles and Warfare in the Middle Ages, which gives a very in depth history of not only the siege tower, but also other middle ages weaponry. What made me actually purchase this kit? The price tag.... after my educator discount, it was less than $5 (its $6.29 online right now if you are interested in purchasing it click the picture below). * I am in no way affiliated with Barnes & Noble or the manufacturer of this kit, I just really liked the kit and wanted to share*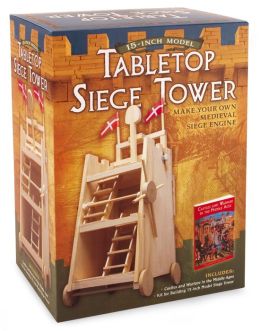 Yesterday was an average summer tuesday, it was very hot out and T had been playing outside for a couple of hours and needed a break from the heat. I have been trying to keep our "screen time only on the weekends" rule in place during the summer so we needed to find an activity. I remembered that we had this kit and pulled it out during B's nap.
T got right to work sorting the pieces. There are a few nice diagrams of the pieces on the instruction sheet which really helped us keep track of the pieces.
We also needed to collect a scissors, tape (ended up not using), a ruler (didn't use this either), and glue (we used wood glue).
Not much glue is needed, I used a toothpick to put the glue into the small crevices. I did the glue parts because we were working on our hardwood floors inside. T was able to put the pieces together himself. The instructions were very clear and allowed us to set pieces aside to dry while assembling other parts. We never had to stop entirely for glue to dry.
Large rubber bands were provided to stabilize the structure while the glue dried. This was really helpful since T's little hands couldn't reach all the way around it.
The kit comes with two thick glossy paper flags. T used colored pencils to make his flags and then we used a glue stick to wrap them around the wooden posts.
Finished model
Side view with the drawbridge up
Side view with the drawbridge down
Back view with Lego minifigs added
We grabbed some red and blue (the colors he used on his flags) pom poms from our art closet and he use them as his projectiles. You just twist the dowels on the sides to wind the string and then pull back the catapult and let go. T got the pom pom to go about 10 feet across the room.
No legos come with this kit, but T has an army of minifigs with random armor and weapons that fit perfectly into this siege tower.
The instructions were amusing, twice mentioning laying siege to a hamster cage. We don't have hamsters but we do have guinea pigs. T brought them out to play and one decided to invade the tower.
We had a lot of fun building this model together and T has been playing with it quite a bit already. If you are looking for a fun indoor activity you might want to try one of these kits. I can also recommend the Mindware brand kits, T built the catapult kit a couple of years ago. He brought that one out to battle against the siege tower.